Thanks to all who came and made the reunion such a success! Please check back here over the next few weeks; we will post pictures and stories and more!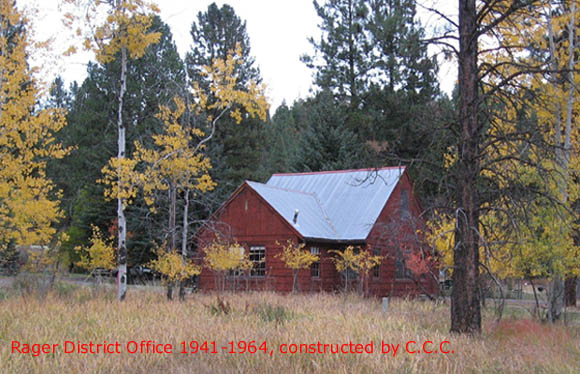 "In a.m. went with L.E.Throop drove cattle that were National Forest boundary. Drove them farther south. In p.m. went up on Rager Creek surveyed out ranger station on Rager Creek."
From the work journal of Charles Congleton, US Forest Service, April 8, 1908.
Rager Centennial Celebration
In the early years, the Forest Service was comprised of small, remote ranger districts where employees and families lived near the office. As the Forest Service changed with the times, the Rager Ranger Station reminds us of those past years with its remote location and family setting. For those of us who have worked at Rager and in the Paulina area, this ranger station has a special remembrance. The Rager Ranger Station reminds us that, even in the 21st Century, having a close connection with the land and the local community is still important.
Please join us in celebrating the last 100 years, and welcoming the next century of the Rager Ranger Station. The Friends of the Rager Ranger Station are inviting all past employees, their families, volunteers, those involved in partnerships, and Paulina residents to a Centennial Celebration on
June 13-15, 2008. If you plan to attend, please RSVP by completing the Registration Form and return it by June 1st to the Friends of Rager
.
The
main events
are a Paulina community barbeque Friday night hosted by the Paulina Store, events planned at the Rager Ranger Station on Saturday, and a Sunday morning breakfast by the PauMau Club at the Paulina Community Hall.
Saturday's events at the ranger station will include a sign-in beginning at noon, tours of the ranger station compound, self-guided tours with a brochure of the ranger district, dinner at 5:00 p.m. with an evening program beginning at 7:00 p.m. The dinner will feature music provided by Central Oregon musicians; centennial participants are encouraged to bring their own instruments and join in. Many folks will likely start gathering in the afternoon to visit with old friends. Participants are also encouraged to
bring their stories of Rager, along with any photos
they might have of that time. Volunteer oral historians will be on hand to record these experiences, along with a photograph scanner.
Plans are in the works for a Centennial t-shirt, and the Rager Rat t-shirt will also be
available for ordering on this website
later this spring. Shirts can be picked up at the celebration but must be ordered in advance.
Camping opportunities on the Forest are numerous with several campgrounds close by the Rager Ranger Station, along with countless dispersed camping sites. A
website link to forest camping
will offer information about our two fee campgrounds, Sugar and Wolf Creek. Please call the Paulina Ranger District recreation office at 541.477.6917 for information about the non-fee campgrounds close by the ranger station. Camping at the ranger station will not be possible due to the need for all available space for parking. We will also have links to the Prineville and Bend Chamber of Commerce for those planning to stay in town.
Rager Ranger Station History Project:
Beginning April 1, and then every Friday there after, this website will be sharing bits of history about the Rager Ranger Station and Paulina Ranger District. The public, past and current employees, family members, and local in the community are encouraged to submit their own stories to the Friends of Rager Ranger Station, PO Box 38, Paulina, OR 97751 for submittal to our website.
Further information will be available on this website as it is developed. Please check back frequently. In the mean time, the Friends of the Rager Ranger Station are collecting names and contact information (e-mail or mailing addresses, telephone numbers) of people who would like more information or are planning to attend the event. A flyer will be sent to them in March with registration information. Please send this information to Renee Roufs, rroufs@fs.fed.us, phone 541.477.6921. Please direct your questions for general information to Kathleen Martin, ktmartin@fs.fed.us, phone 541.477.6917.
Please consider
joining the Friends of Rager Ranger Station.
Membership is $10.00 annually per family. Members will be informed of annual reunions and partnership projects in the forest. Donations for this upcoming Centennial event are also welcomed. Print and fill out the attached membership form and send with your check to The Friends of Rager Ranger Station, P.O. Box 38, Paulina, Oregon, 97751.